Halloween's almost upon us again and the Little Red Riding Hood costumes have more variety than ever. There are now numerous versions that come with wolf ears and tails, several zombie versions and even a
Hello Kitty
version! Can't say I'm a fan of it but each to their own. It means you can still be unique if your DIY skills aren't too good as there is just so much variety.
First some from Amazon.
Known simply as Red Riding Hood costume with wolf ears it reminds me of most Red Riding Hood costumes with the red skirt, black corset and white peasant top and a cape that goes to the waist with what appears to be velvet velour material.
It seems to be another version of my own costume (Lil Red Riding Rood
Secret Wishes
) only the red is a darker shade and it comes with wolf ears.
The ears themselves look cheaply made and very like a pair I bought on ebay. The material does look gorgeous and velvet velour is definitely a win, it looks as good as the real thing, it feels comfortable and soft and the colour is beautiful.
Adult Gothic Red Riding Hood. Again it bears a resemblance to many other Red Riding Hood costumes, opting for the black on red look with a lacy, lingere like pattern. Without the cape and basket it doesn't look like much. Up close that black pattern on the faux silk panelling is ghastly looking. The black trim on the cloak is curled and whilst it blends with the black on the dress I don't like it.
It does offer another option if you're trying to copy Anna Paquin's costume from Trick r Treat.
Another Gothic Red Riding Hood- this costume includes the gloves, dress and cloak. The gold trim adds a nice touch to the colouring. Again there's the black and red with the white on a small apron that seems ill placed on the costume.
It's difficult to tell what the cloak is made of and whilst long it looks chealy made in the picture.
It's a little different to the norm and the gold adds a little something more to it.
If you like the gold trim Yandy offers a more deluxe
Captivating Miss Red
with a dark satin like dress and cloak with the gold trim.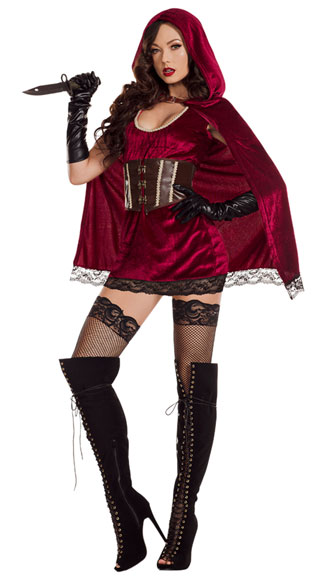 Dark Red Riding Hood on Yandy also offers that fully red costume with a brown corset, whcih again is yet another option close to Trick R Treat's Red Riding Hood costume. Knife and gloves are not included so really the only thing dar kabout it is the deep maroon colour.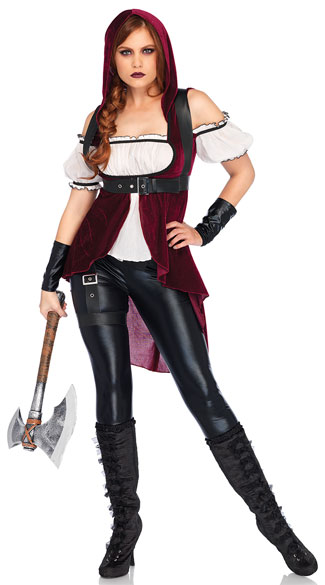 Rebel Red, also on Yandy, offers a unique costume. No skirts or corsets this time, this Red means peasant. Whilst it advertises itself as peasant style its hard imagining a peasant in skin tight leather (or in this case false leather) leggings. I prefer traditional for Red Riding Hood but this gets points for originality and could help with someone aiming for a Steampunk look. I think it's hard to fully get the Red Riding Hood vibe with it as again it's sucha dark shade of red it's almost purple and whilst there's a hood the cloak is so secure with the chest belt that it's hard to get the effect. Maybe accessorise with a wolf head or wolf claws or ears or tail or a basket.
If you're looking for inspiration from the media world I'd suggest- Laurie's costume from Trick R Treat, Ruby's from Once Upon A Time, Rosaleen from The Company of Wolves, or Valerie from Red Riding Hood.