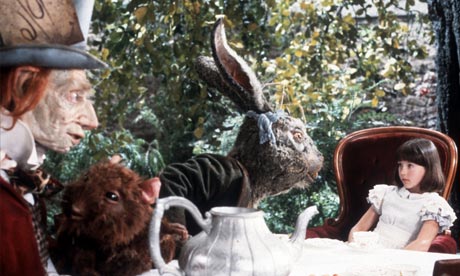 This strange little movie from 1985 follows a fictional account of the real Alice, Alice Hargreaves as she travels to America to receive an honorary degree from Columbia University celebrating a hundred years since Lewis Carroll's birth. She goes with her assistant Lucy and bombarded by people wanting to meet the real Alice and have her come to their events she begins to have flashbacks to her childhood spliced in with events from the novel.
Mostly if not entirely fictional, this film is confusing but quaint, mixing in the romance of Lucy and disgraced reporter Jack who seizes his chance to become Alice's agent, thus earning himself 20% of all her earnings, with Alice's childhood with her siblings, her mother and the Reverend Charles Dodgson. The older Alice seems plagued by her memories of the Reverend Dodgson, pondering how her mother's disapproval and his words seemed inappropriate and wondering if they really were. It dances on the edge of exploring their relationship, inspired by the rumours it has inspired for years.
The March Hare, the Hatter, the Dormouse, the Caterpillar, the Mock Turtle and the Gryphon all have appearances in the form of creepy puppets courtsey of Jim Henson. The young Alice is played to perfection by Amelia Shankley, whilst the older Alice is portrayed by Coral Browne who manages to show as a woman who is both tough and vulnerable, a stern Victorian, she seems almost cruel to her charge Lucy and yet there is a kindness to her too as she notices Lucy's love for Jack and accepts it without question, just as she knows Jack is driven by greed and yet accepts his help.
Ian Holm gives us a stuttering, vulnerable, almost childlike Charles Dodgson, a man almost afraid to speak his mind who has a strange and yet innocent relationship with a young Alice, which her mother is very wary of. Nicola Cowper and Peter Gallagher round up the cast as naive, curious Lucy and ex reporter, greedy Jack who falls in love despite his selfish motives. Their romance is rushed and for many viewers it seems an almost inappropriate interruption to the story, whilst I quite enjoyed it. Lucy was believable as a charge of Alice, curious just Alice herself once was, vulnerable, naive, kind and impatient and her romance with Jack is cute and sweet.
The movie tries to reach the dreamlike, metaphorical quality of The Company of Wolves but never quite gets there, the jumping between a dreary Wonderland and two different realities, one the sunny past and the other a confusing present, is clunky at best and almost like two seperate movies have been combined. The relationship between Charles Dodgson and Alice is based on speculation alone and here the film goes for the almost stereotypical view that their relationship is inappropriate, though the film never quite confirms this.
Interestingly, in reality the theory is that Charles might have actually been pursuing a relationship with Alice's nanny, which the family disapproved of, or/and he disagreed with Alice's father's views leading to a fallout. In truth though no one really knows, and it is all just speculation and rumour.
If you simply watch this film as fiction then it is quite enjoyable, and it's certainly worth a watch for fans of Alice in Wonderland, presenting a darker version of Wonderland. It's not for kids, and the puppets are quite disturbing, probably intentionally so, but given the rise in popularity of a more Gothic Wonderland that just might suit some people.